Find out more about how simple it is to engage the best legal expertise for your particular requirements.
Fenners Chambers was established in 1973 and has grown steadily in size and reputation. The Legal 500 Directory now ranks Fenners as the top-rated chambers in the East of England. Many of our former barristers are now full-time circuit, district and tribunal judges. We provide expertise and advocacy across a wide range of criminal, civil and family matters.

Our barristers
All Members of Fenners Chambers are self-employed and independent barristers who have been called to the Bar of England and Wales and are registered with the Bar Standards Board.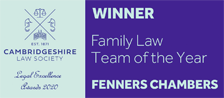 Fenners Chambers is committed to providing legal services of the highest quality to all clients both lay and professional. Our policies are available to view here.
Discover how easy it is to instruct
the barrister with the correct expertise
to give you the best legal advice
for your requirements.
On 27 May 2021, the Sentencing Council released new guidelines for all assault offences which will come into effect on 1 July 2021. Sentencing for all three offences sees a significant change under the new guidelines. Whilst the statutory maximum for the offences has...